21 MOVIES THAT EXPLORE AND CELEBRATE FEMALE RELATIONSHIPS
Every day in the real world I, like many women I know, am tragically forced to interact with men. The solution to that? Immersing myself in movies and TV shows that focus on women! The following movies are some of my all-time favorites, examining the amazing spectrum of relationships women have with one another. And before you even ask: no, Sisterhood of the Travelling Pants is not on here.
After realizing that their peers managed to both party and get into Ivy League schools, overachievers Amy and Molly try to save their high school experience by having one crazy night out before graduation. Hijinks, of course, ensue. The comedy and banter between the two girls alone would have made it make the list, but the underlying themes of going in different directions than childhood friends makes it a ten out of ten. 
Okay, yes. This movie is technically a rom-com about finding your soulmate and romantic love and all that. But what's even better than seeing 90s Robert Downey Jr. and Marisa Tomei's insane on-screen chemistry is Faith's relationship with her childhood best friend, Kate. They're just the perfect example of two different people balancing each other perfectly. Also, the energy of one best friend being aware of the other's crazy but being supportive enough to say: "screw it, let's go to Italy for four days to find your soulmate." Amazing.
I know, I know. I said I wouldn't put Sisterhood of the Travelling Pants on here and then included the second cheesiest and most obvious movie about female friendship. But come on! The ABBA soundtrack! The beautiful Greek landscape shown with the saturation turned all the way up! The overalls! The dynamic between Donna, Tanya and Rosie is just so supportive and fun, and is paralleled perfectly by Sophie's relationship with her own best friends. It's just the type of movie that makes you totally forget that the patriarchy exists.
Before the marker of true friendship was "we should start a podcast," it was "let's start a band." Based on the 70s girl band of the same name, The Runaways follows Cherie, Joan, Kim, Jackie and Lita as they go from normal high school girls to genuinely bad-ass rockstars.
Okay, we've gone over a bunch of light-hearted comedies and girl band movies featuring incredible female friendships. Maybe you want something with a little more substance. Set It Off is an incredibly underrated heist movie about four Black women who decide to start robbing banks after struggling to make ends meet. But more than anything, this movie looks at the intersections of racism and capitalism, and how violent the combination of the two can be.
It may be based on the book Fingersmith by Sarah Waters, but this adaptation is entirely unique, swapping Victorian England for Korea in the 1930s under Japanese rule. This movie is about the way that men undervalue female relationships and the potential consequences that come from that. Honestly, It's one of the best movies I've seen in a while, I can't recommend it enough!
Four childhood friends reunite after years apart and reflect on both their shared memories of the summer of1970 and the ways they've grown apart since then. This movie serves as a really beautiful reminder that, while friendships don't last forever, the ways our friends change us certainly do.
A film that not only focuses on adult female friendship but also on mother-daughter dynamics? Of course it's going to make the list! Lindo, Ying-Ying, An-Mei and Suyuan's friendship just seems so realistic and grounded, and hearing them discuss their own complicated relationships with their daughters will make you want to call up your own mom to tell her that you love her.
I'm giving this warning up front for people who haven't had the best luck with foreign films: this movie is entirely in Dutch with English subtitles. I promise that it's more than worth a watch. Antonia's Line follows the titular Antonia as well as her daughter and granddaughter throughout their lives. It's hard to sum up what makes this movie so cathartic to watch but it's often been called a "feminist fairytale" by critics, one where women are defined completely external to their relationships to men or to their ability to bear children.
Definitely one of the heavier movies on the list, The Color Purple follows Celie, a Black woman in Georgia, as she goes from her abusive childhood house to her abusive marital house. Through it all, she slowly begins unpacking her own internalized misogyny and learning her own worth with the help of her sister, her daughter-in-law, and the woman she loves.
This movie is the only movie I've ever seen that actually manages to show how complicated mother-daughter relationships can be. As senior year plays out, Lady Bird and her mother navigate her desire for independence with varying results, going from crying together over audiobooks to shopping for prom dresses to saying the most hurtful things they can think of to one another. Throughout it all, however, there's a sense of how deeply the two care for one another that makes me tear up each time I rewatch.
At the end of the 18th century, a female artist is brought to an isolated island in Brittany to paint the wedding portrait of a young woman who has recently left a convent. What unfolds from there is a delicious slow-burn, hypnotic and heart-wrenching. Also, there's basically no men in the whole movie so that's already a win in my book.
If you've ever wondered what would it be like if a movie tried to take on every single social issue at once, then boy do I have the movie for you! Written by Shonda Rhimes (the grandmaster of fictional female friendships!), the relationship that develops between Kit, Lucy and Mimi as they road trip from Texas to Los Angeles is the definition of standing with someone through thick and thin.
On the surface, Tangerine is a movie about two women going off to confront a cheating boyfriend. But underneath that, it looks at the ways we both hurt and help our friends, balancing our own wants with theirs. I love Tangerine and the relationships between Alexandra and Sin-Dee because it forces me to confront my own ideas about friendship and what "being there for each other" really means.
As her twenties come to a close, Frances is still struggling to find her place in life. But while her dreams of being a dancer are still far from being realized, her best friend Sophie seems to already be a real "adult." We can say all we want about how growth isn't linear and that there's no rush in life, but it can be hard to have friends achieve career and romantic "milestones" before you. This isn't something that a lot of movies try to show, but Frances Ha does so in a way that feels natural and melancholy and proud, all at once.
Like many a romcom, Something Great starts with its protagonist, Jenny, in the prime of her life before one abrupt event (getting her dream job on the West Coast and subsequently splitting with her boyfriend of nine years) changes everything. But Something Great rejects the all-too-common trope of having a new love interest help her through this big shift in life. Rather, Jenny turns to her two best friends, Blair and Erin, to help give her a proper send-off and remind her that no one really knows what's going on in life.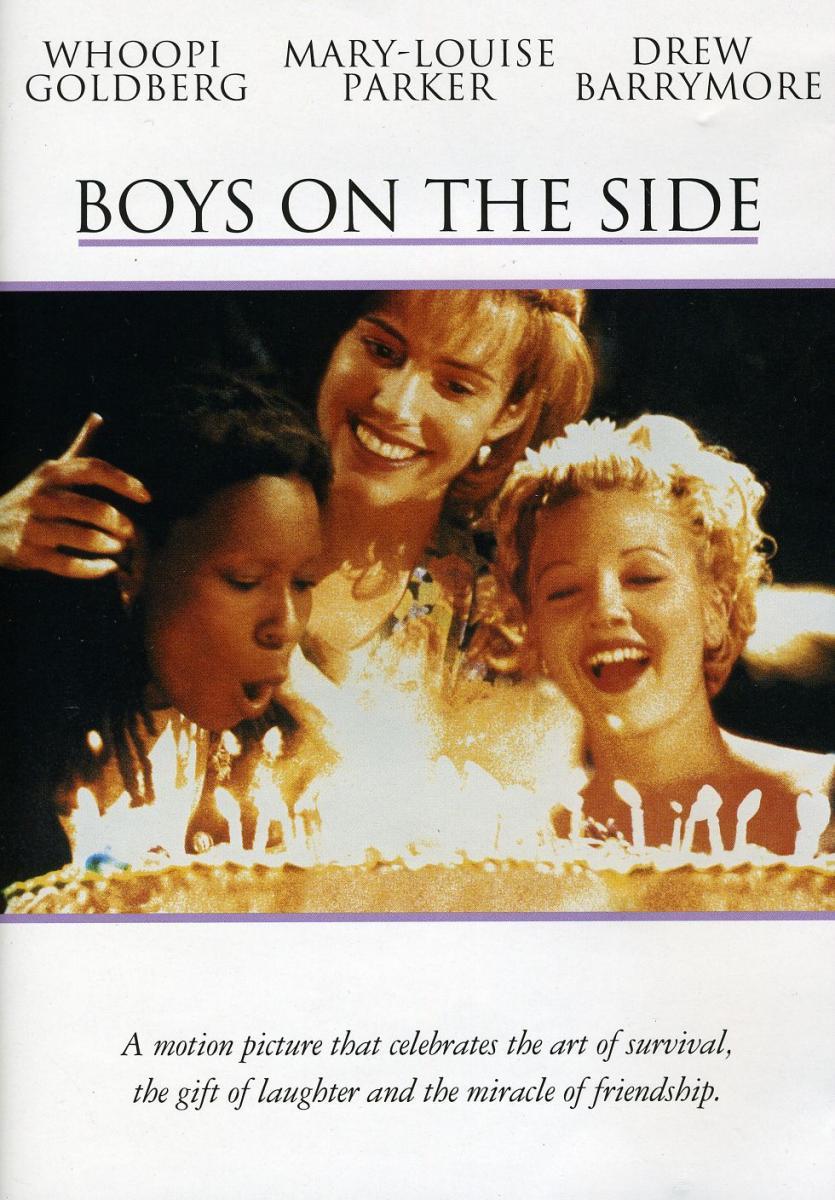 Really, nothing I could write about this movie will top a Letterboxd review from user Charlie Pumpkin, who commented: "[Four stars] There are sooo many problems with this film but I still love it for the sisterhood, my god women are everything ♥"
While the premise of this movie is pretty simple (two sisters move into a new house in the countryside and befriend some imaginary friends in the woods nearby), the emotions it will inevitably inspire in you are anything but. Every time I watch it, it reminds me of the responsibility we have towards one another and the ways we take care of those we love. When I say I cried for a solid hour of this movie...
This movie is just the definition of feel-good, the ultimate goofy and lighthearted take on female friendship. Depicting a fictionalized version of the Spice Girls' world tour, it bounces from city to city, showing an overly cheesy depiction of them as the quasi-official ambassadors of Girl Power™.
After being approached by three girls looking for a fourth friend, Marieme, a wallflower, begins branching out: binging on fast food, shoplifting, going out, and doing all the idiotic things you're meant to do when you're sixteen. This movie is such a beautiful look at the protection and identity that female friendship can provide you with, especially when you're not able to find it at home.
Little Women follows four sisters from childhood into adulthood as they navigate the societal expectations that come from being a white woman in 19th century America. Watching Meg, Jo, Beth, and Amy grow and change over time is like having an electric blanket of emotional warmth draped over your shoulders; it's just such a realistic portrayal of sisterhood. As they all figure out how to be their own individual, they butt heads and fight and become distant at times, but ultimately they're proud to watch each other become adults. (Also, I hate to be this person...but if you liked the movie at all, read the book!)
---